Living Room Interior Design Ideas: Casual Charm
Casual charm is an interior which is laid back, comfortable and homely – in many ways it represents the 'normal' homes we live in. Nothing too gaudy, garish or contemporary, simple comfort is all that many of us need in our lives. This laid back attitudes serves its own purpose in interior design – basically because it's the beating heart of most homes.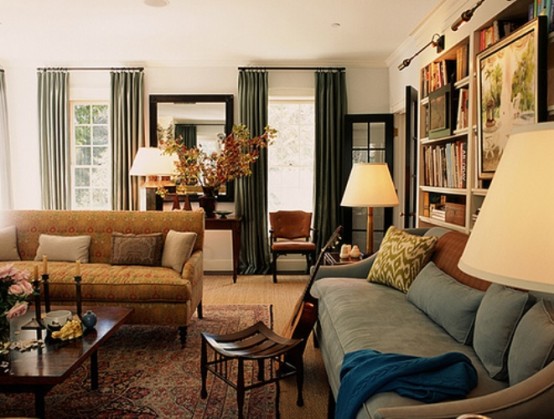 For the younger generations a laid back attitude suits their lifestyles perfectly, however it doesn't mean a slovenly home which is in desperate need of cleaning or de-cluttering – what is does mean is that you can create a casual charm which suits your personality, which in is the hallmark to any successful interior design style.
In this post we're going to move away from the younger generation and focus our attention on those with a little more age and should we say 'life-experiences'. These are the folk who are, for the most part, content with their lives and the style of their homes – not those stuck in a time warp or have simply given up on bothering with their interiors.
These homes aren't shabby chic per say – they are a style in their own right and while some may view this style as 'old fashioned' the living rooms are filled with comfortable sofas, cushions, a coffee table, a practical rugs and full length ready made curtains are the 'norm'. Colours are typically muted and many homes have a mix of new and old sitting comfortably next to one another (which is one of the latest interior design trends – whether these folk are aware or not!).
However, we have to emphasise that casual charm isn't slap-dash – it's carefully considered and soft furnishings wisely chosen to serve for their style and well as for their practicality and functionality. Lounge curtains are exactly the right length, skimming neatly on top of the flooring; due to the precise and exacting nature made to measure curtains are an excellent choice to get the casual look, with added refinement.
Curtain poles are typically used to hang curtains, although silent glide curtain tracks can also be used particularly on large windows. Smaller windows can be given the illusion of more width and height by careful placement of the tracks or poles – in the same way as any other interior design style. This style is all about getting the balance right and always feeling comfortable in your home.